I must be needing iron or something, since I've been all about beef and spinach the past couple days!
I didn't get much sleep last night due to Chloe's shenanigans.
The first week we had her, she slept alone downstairs because I wouldn't let her into the bedroom. Â Then Mr. Spice guilt-tripped me into letting her in, but she would just come in to explore and play. Â The end of last week she started sleeping on some plastic bins we have in the hallway — not sure if she spent the whole night there or not. Â The past couple mornings, I've woken up to her lying on the floor next to my bed.
Yesterday, Mr. Spice sent me this pic while I was at work: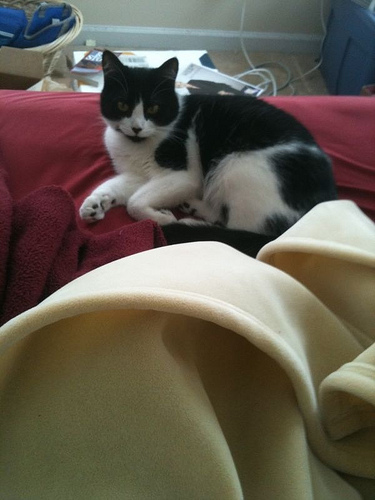 Yup, she was lying in state on my side of the bed. Â And left lots of cat hair for me to clean off!
Last night I was reading before bed when I heard some soft snuffling. Â I look over near Mr. Spice's side of the bed and see a pair of beady eyes peeking out here: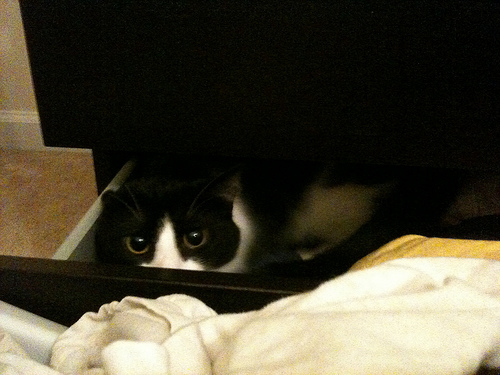 Then I woke up when Mr. Spice was coming to bed because Chloe had taken over his side of the bed and he couldn't get her to move! Â He finally got her to move, but she promptly went back to sleep on top of his legs. Of course I kept waking up at night because I tend to toss and turn and I was scared she'd try to attack my legs or something.

Anyway . . . so long story short I was running late for work again and didn't have time to grab anything at home.
Luckily I put together a hodgepodge of a breakfast at work: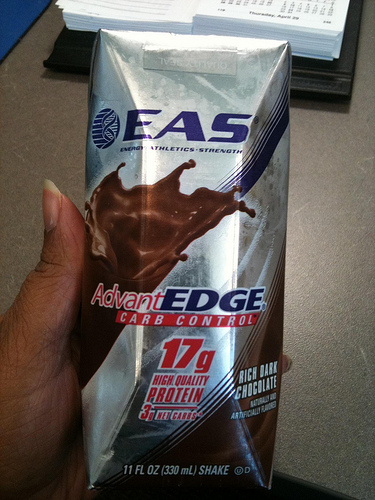 I like to keep these handy for emergencies. They're only 110 calories and have plenty of protein.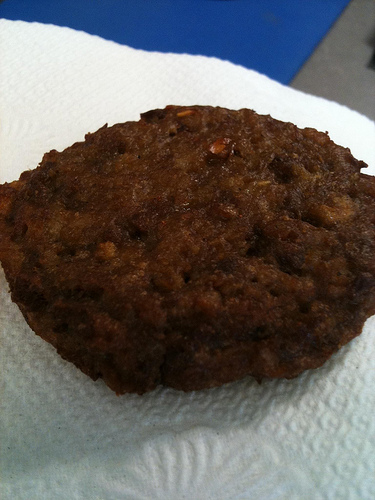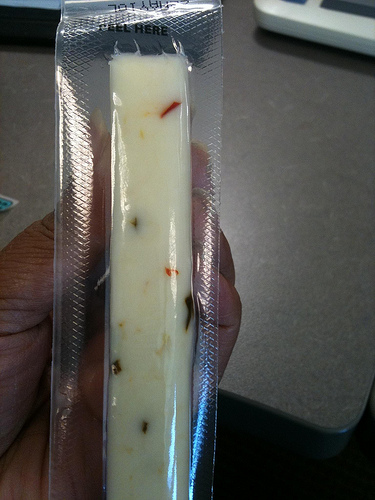 I scrounged up a Morningstar breakfast patty in the freezer at work and a pepperjack cheese stick.
I didn't grab anything for lunch when I left home, so I decided to hit up Chipotle for lunch.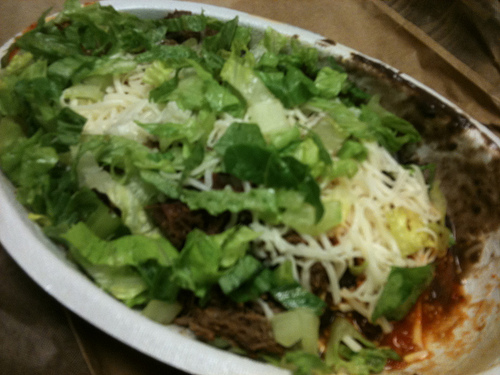 A barbacoa beef burrito bol — basically the burrito fillings in a bowl. I don't like their rice since it has cilantro in it, so that's easy to nix. I get the barbacoa beef, black beans, their hottest sauce, lettuce, and cheese. Makes it a little less bad for me.

This kept me until dinner, which was more leftover chili. I hope we're done with this soon so I can make something else this weekend!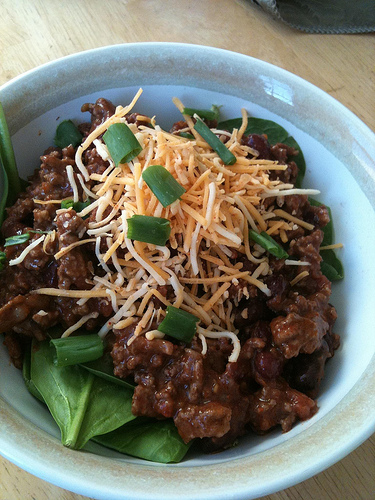 I'm about to make myself some dessert. I've really started to like the ricotta cremes. Don't know what it is this time, but in the past I wasn't impressed with the texture. Maybe it's the brand? Or using part-skim instead of fat-free? Anyway, here is my basic "recipe" for it:
Ricotta Creme
1/4-1/3 cup part-skim ricotta cheese
splenda
low-fat Cool Whip (I know, it's bad for you. I don't like real whipped cream and it's not like I'm eating the whole tub)
flavorings of choice – sugar-free syrups, extracts, etc.
Mix it up and enjoy. Freeze for a few minutes if you want.
I've been using unsweetened cocoa powder for a chocolatey taste. I've added orange extract to this one night, SF hazelnut syrup another night, and SF cherry preserves another. Â Tonight I tried some SF chocolate malt drink mix!