Don't you love my cheesy titles?
I hope you're as excited about this giveaway as I am!  I'm giving one lucky reader some special goodies to enjoy during this holiday season!
First, your choice of super-cute holiday-themed pasta.  You saw some Halloween pasta on here a couple months ago, but now we have Winter Pasta or Holiday Pasta!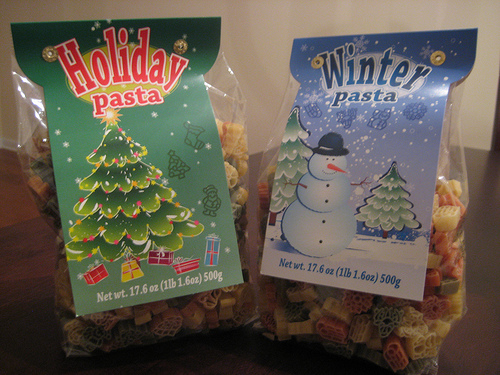 Next, a mini-selection of holiday-themed hot cocoa! You will be getting peppermint, s'mores, and gingerbread hot cocoa. I'm jealous of whoever wins this!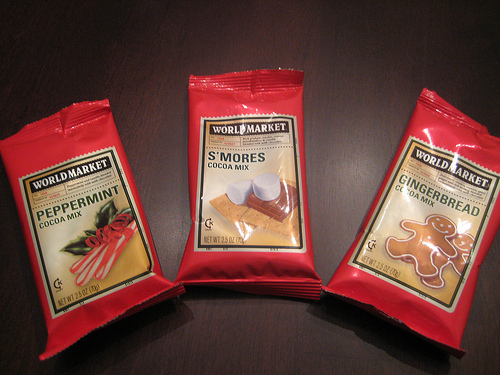 Doesn't all that look great?
There are plenty of chances to win:
Leave me a comment telling me how you would use the holiday pasta
Leave me a comment telling me which flavor of hot cocoa you'd like to try
Tweet about this giveaway on Twitter
Follow me on Twitter — I'm @spiceaholic80
Blog about this giveaway and link back
Leave me a separate comment for items 3-5 telling me you did them
If you don't have a blog, email me to tell me you're interested
That's all you have to do to win!
I'll be taking entries until 7pm EST on Monday, December 14th.   I'll randomly select a winner at that time and will post the winner here.  Please make sure you leave an email address in your comments so I can contact you should you win.
NOTE: I do have to limit this to U.S. residents due to shipping costs and holiday timing constraints.
Good luck!
WE HAVE A WINNER!!
The Random Number Generator selected comment #9 as the winner!
Congratulations, Evan!  🙂

Please email me at spiceaholic80 @gmail.com to let me know which pasta you want and so I can get your contact information.