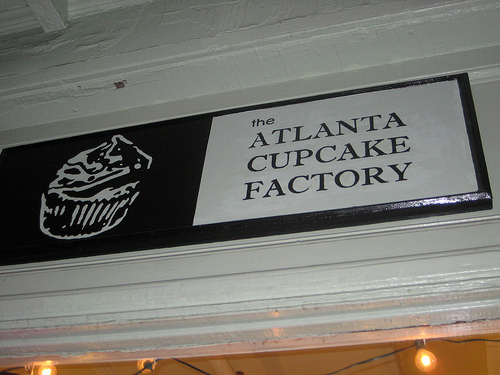 Just one of the many reasons I love Mr. Spice is that he indulges my crazy whims.  We were hanging out in the west Midtown area of Atlanta today when we both wanted something sweet to eat.  Not ice cream, but something like cake or dessert.  Enter our handy iPhone apps, and we'd pulled up a list of bakeries in the general area.
I knew where we were going as soon as I saw the name pop up:  The Atlanta Cupcake Factory.
I've heard so many good things about this place and have been wanting to try it for the longest time, but I figured since it was in the Poncey-Highland area of Atlanta, which is all the way across from where we live, that we'd never get around to it.
Well, I figured wrong.  Never under-estimate the power the word "cupcake" or "bakery" has on Mr. Spice. It also helped that we were already out and in town.
Luckily for us, the Atlanta Cupcake Factory is open until 8:30 pm on Saturdays, which is good since we showed up at 7:45. Even more luckily for us, they hadn't sold out so they were still open. Phew!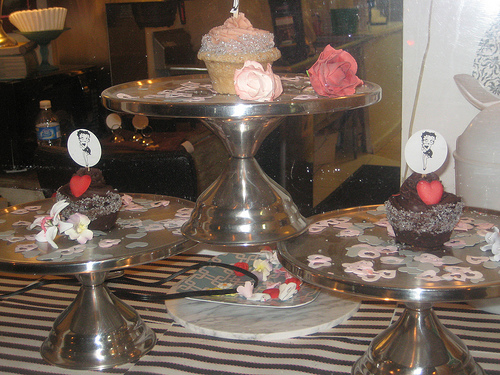 As soon as we walked in, we were enveloped in a sugary warmth that was enhanced by the coziness of the store. It was like walking into a friend's kitchen and knowing that you were about to get a warm treat fresh from the oven.
The owners were very friendly and explained that they have weekly flavors and to be sure to stop by earlier in the day next time so that we would have more flavors to choose from. They even told us they had a blog where they posted the flavors! There were 3 flavors left for us to choose from — Coconut/Almond, Sugar Cookie/Nutella and Carrot Cake/Vanilla. Guess which one I honed in on? Yup, if it has Nutella in it, you can bet I'm getting it.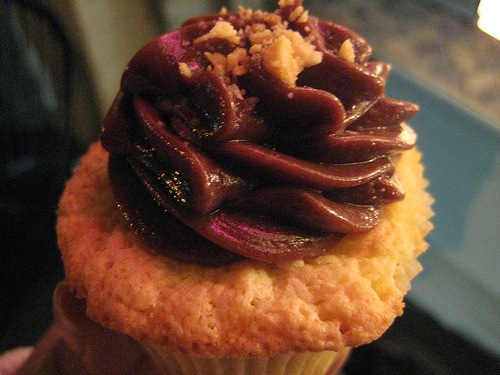 You should have seen the two of us rushing outside to try our cupcakes! We both got the Sugar Cookie/Nutella cupcake and were very pleased with them. The cupcake itself tasted rich and vanilla-y, and the Nutella frosting and sugar cookie crumbles perfectly complemented it. We both wished we hadn't wolfed ours down so greedily.  And now I have a new way to eat sugar cookies.  I tell you, Nutella tastes good on everything.
Oh but luckily we also had a Coconut/Almond cupcake to share. We decided to exercise some self-restraint and wait until we got home before we devoured it.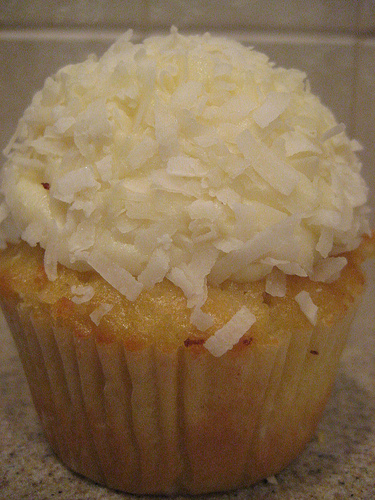 Do you like coconut? Do you like almond? And cream cheese? You do? Well then you'd love this cupcake! The cupcake had the perfect blend of almond and coconut and the frosting was tangy and sweet from the cream cheese frosting with coconut flakes covering it. Decadence in the palm of your hand.
I have a feeling we'll be making lots of trips over here to try all the flavors.