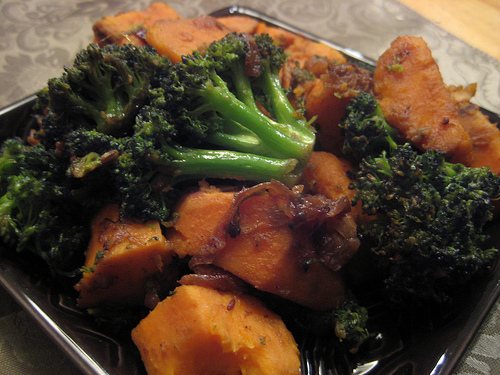 I'm not quite sure how to describe what a bhaji is. It's like a dry vegetable dish with whole spices. It is NOT a curry. Just because it is Indian/Pakistani/Bengali doesn't render a dish a "curry."
Anyway, for the longest time I have struggled with making bhajis. The spices were either undercooked or overcooked, or the vegetables were bland. But practice makes perfect and though I am far from perfect, they are tasting better and better.  For me the key is to let the onions brown significantly before adding the spices, since the spices can go from raw to burnt in a matter of seconds, while the onions need time to brown.
You can use any kind of veggie you want in a bhaji. So if you don't like broccoli or sweet potato, then use green beans, cabbage, regular potatoes, whatever.
Broccoli and Sweet Potato Bhaji
2 cups fresh broccoli florets
2 small sweet potatoes, cut into eighths
1/4 small onion, thinly sliced
1 tbsp. oil
1/2 tsp. panchphoran (Bengali five-spice mix) — a mix of fenugreek, nigella seeds, mustard seed, fennel seed, and cumin seed
1/2 tsp. cumin powder
salt to taste
Heat oil in a large pan over medium-high to high heat. Once hot, add onion slices and cook until they begin to turn brownish red. Add the panchphoran and listen for when the seeds start popping. Lower heat immediately to medium and add sweet potatoes, stirring to coat with seeds and onions. Add the cumin powder and keep stirring. Add broccoli and keep stirring, as onions continue to brown. Add salt and water to prevent the vegetables from sticking. Lower heat to medium-low and cover, letting vegetables cook until just tender. Check and adjust for salt again once done.