Say it with me . . . YUM!!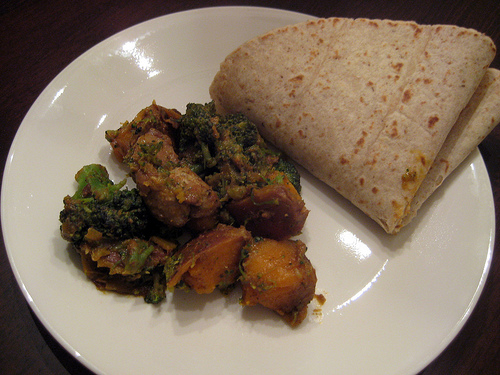 This was one of those "toss stuff in a pan" dinners that turned out pretty dang well.  I didn't measure much since I was playing around.
What to use:
Boneless skinless chicken thighs, cut into big chunks
2 sweet potatoes, cut into chunks
fresh broccoli florets
1 chopped onion
minced garlic
garlic paste
Patak's Hot Curry Paste (this was the crucial ingredient)
canola oil
salt to taste
garam masala to taste
What to do:
Boil sweet potato chunks for 20 minutes, or until fork-tender.  Drain water and set aside.
Heat canola oil in a big pan on med-high heat.  Brown onion pieces, then add garlic and ginger until they're browned.  Add big blobs of curry paste.
Add chicken pieces and brown well.  Now dump in sweet potato chunks and combine.  Add broccoli florets last and keep stirring.  Add water if necessary to prevent sticking.  Lower heat, cover, and cook for about 15 minutes, or until chicken is cooked through.  Add salt and garam masala to taste.
And the picture taken above is actually the leftovers from last night heated up for dinner.  It tasted even better having sat in the fridge overnight.
The sweet potato went so well with the spices.  The broccoli was cooked nice and mushy like it should be in Indian food — crunchy is okay for stir-fry, but not for curry.  And the chicken was cooked through but still tender.  I prefer boneless skinless thighs since they can take the longer cooking time needed for the flavors to properly meld.
If you don't have curry paste, just make a quick paste with some ground cumin, ground coriander, turmeric (just a little!), and some paprika or chili powder.  Don't you dare use curry powder.  I mean it!
***
Check out my guest post on Mara's site!   I made Greek-style Chicken, Spinach, Feta, and Orzo!