I have lived in Atlanta for a little over 5 years now and I have yet take advantage of everything the city has to offer, let alone what Georgia has to offer.  There are so many places that are close enough for a quick day-trip on the weekends, and lately I've been wanting to go.
My friend's birthday was on Friday and as part of her birthday weekend (we like to celebrate as long as we can), she, another friend, and I decided to do a little girls' field trip up to Athens, GA, which is home to the University of Georgia, where they went for college.
Now a little background — Mr. Spice went to Georgia Tech, which is their in-state rival, and what a rivalry it is!  I play Switzerland while they heckle each other.  I went to the University of Missouri-Columbia (go Mizzou!), so I'm usually safe.  And if you really want to get into rivalries, go no further than my family, which is a Big 12 rivalry to the core.  My grandfather came to Oklahoma or Oklahoma state for his studies, then later my parents went to Kansas State, and then I went to Mizzou, and my sister went to the University of Kansas.  I don't think they make those "house divided" license plates for our situation!
Anyway, when I told Mr. Spice of our plans, he of course made a face and some other comments I won't post here.  And it just so happened I was wearing UGA colors — I had on a chunky red sweater and my black coat because it was so cold.  I promise it was unintentional!  He did say if they converted me to the UGA side to not bother coming home . . .  and he wasn't kidding.
So we met up at my friend L's apartment so we could all drive up in one car.  After a crucial stop for caffeine at Starbucks, we were off.  Athens isn't that far away, maybe 90 minutes at the most.  By the time we got there, it was lunchtime and I was starving.  I asked where we should go for the ultimate Athens experience,  and without hesitation they said we had to go to The Grill.  Despite the generic name, this was a fun place to eat!  It's your typical 50s-style diner, but they are known for their milkshakes, burgers, and fries.
I decided to get the Cajun hamburger with pepperjack cheese, fries, and a side of their feta dressing for dipping.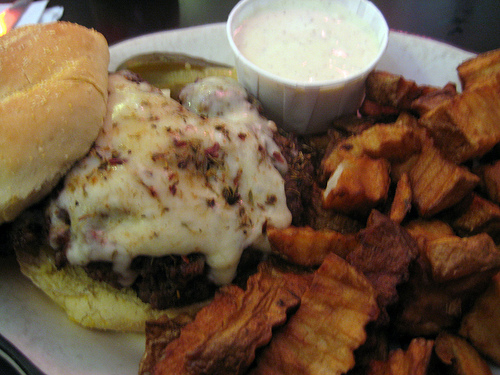 This definitely hit the spot. And that feta dressing rocked. I've had it before at a Greek restaurant that had the best gyros and fries, but sadly is no more. And this was not tzaziki, it tasted more like feta cheese mixed with ranch dressing. I will clearly need to do some taste test experiments.
After such sustenance, it was time to walk it off with some window shopping.  One of the things I miss about college towns is the downtown areas with all the shops and just spending an afternoon walking around and browsing.  We hit up quite a few places in a short amount of time.  While we were at the Native America Gallery, I found a display of what were called Pocket Goddesses, each featuring a carving of a goddess on the front, and an inspirational saying on the back.  I asked what you do with them, and nobody was quite sure, but it seems like you just carry it around with you.
Here's the one I got, the message seemed very appropriate for me: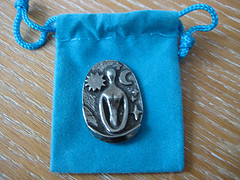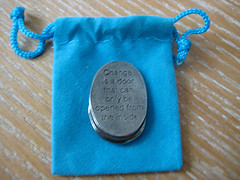 I also found another one that I'm saving for a give-away coming up in a few days! I'm going to be a tease and not post a picture yet.
We also had coupons for a free dream-catcher necklace with any purchase from the gallery, but that is also being saved for the give-away, so you'll just have to wait to see it! 🙂
At one of the stores we were at, I saw this t-shirt and had to take a picture of it!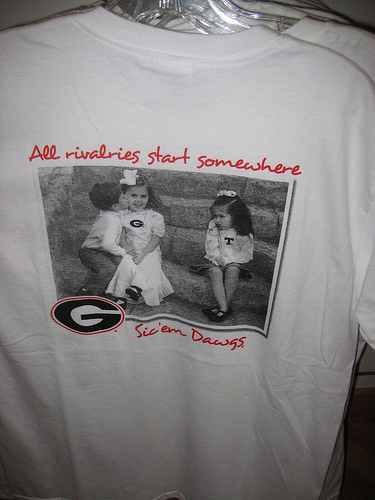 Our last store stop, was the Junkman's Daugher's Brother. This is the companion store to the Junkman's Daughter, here in Atlanta. It's just one of those stores you'll see in any college town that has all sorts of funny and random stuff.
For instance . . .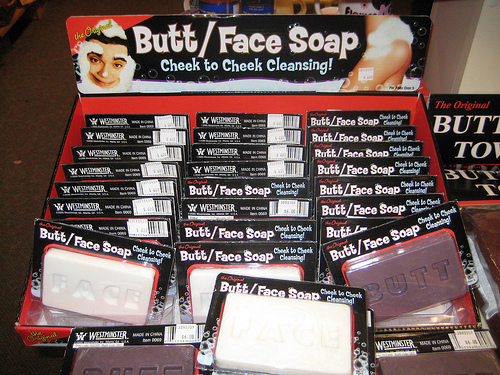 Or check out the "Big Shoe" compared to my tiny foot!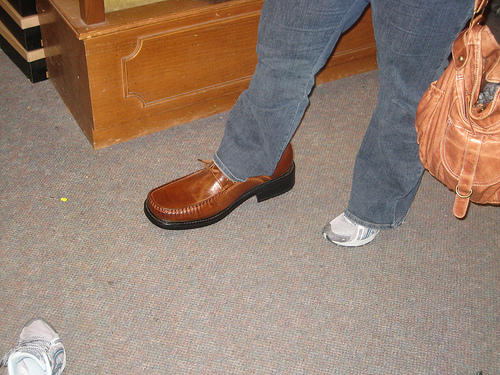 After we were done shopping, I was taken for a small tour of the campus. Walking around on campuses always makes me want to go back to school. Not for the studies, mind you, but for the carefree lifestyle. Well okay, maybe a little for the studies.
And then we were homeward bound! As of yet, no divorce proceedings have been filed, so it's safe to assume Mr. Spice deems me untainted from the trip to Athens. 🙂