I hope everyone had a good weekend!
Why flip-flop Sunday?  No, nothing to do with my favorite summer footwear, it's far too cold for those.  I was referring to the outcome of some of my eats today.  Some I flipped over, some were flops.  Get it?  Hey, I'm trying with the titles.
First up is a flop that I had intended to use for a guest post.  However, these pancakes quite literally flopped and didn't taste that good.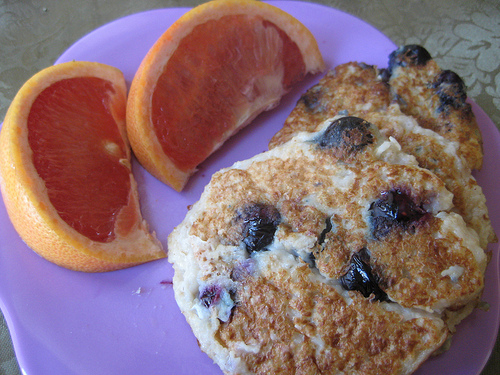 These were supposed to be blueberry oatmeal pancakes. Unfortunately, I still haven't quite grasped the concept that I have to wait for the pancakes to be ready before I flip, not flip them because I think they're done and then they break apart on me and I start cursing.
And they didn't even taste good. Not sweet enough. Luckily I had planned on a different breakfast.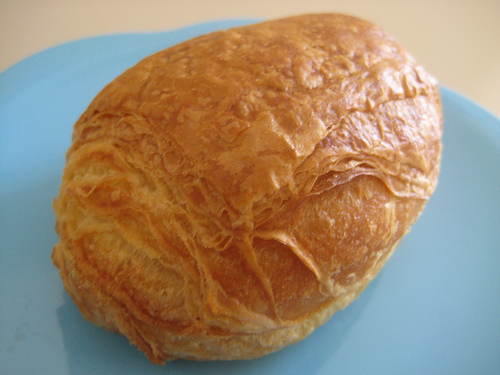 I baked the last of the Trader Joe's chocolate croissants that we had in the freezer. I wish I could have these every day, but this is not meant to be. But I can stock up for next time.
Naturally since I'd had a sweet breakfast, I felt the need for a savory lunch. I was in an omelet mood, so I whipped up one with green bell peppers, cheese, and salsa for me and just green bell peppers for Mr. Spice.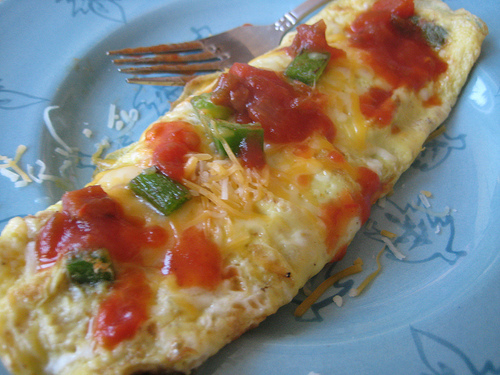 I do love me some eggs + cheese + salsa.  I guess it doesn't take that much time to do these in the morning, but omelets always feel like a weekend kind of thing.
And then a little bit later I had some more of my birthday truffles. Almost done!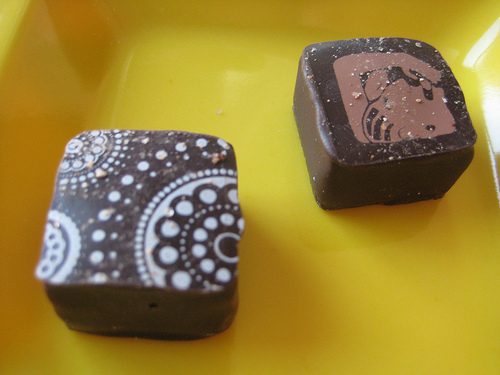 Today's selections were Tahitian Vanilla and Mayan. Yum!
Since we'd been cooped up inside all day yesterday waiting for Comcast to show up to fix our digital cable (thank god it works, since LOST starts on Tuesday!), we decided to head out for a bit.  First stop?  MicroCenter, which is to Mr. Spice as Williams-Sonoma is to me (i.e., torture for the other person).  Luckily we didn't spend too much time in there.  Next stop, Starbucks!  After I weighed in Friday morning, there were some people "interviewing" members and giving $5 Starbucks gift cards for our time.  Hell yeah I waited to do one!   Mr.  Spice got his usual black coffee and I got a skinny vanilla latte and got a teensy chocolate doughnut because I was hungry and it was cute.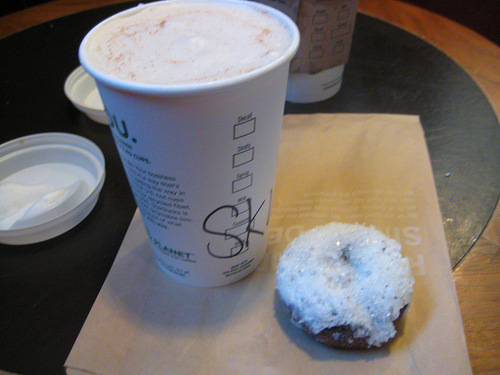 Unfortunately, neither was very good. It seemed like my latte was more milk than coffee so I quit drinking about a third of the way in. The doughnut was dry and the sugary stuff tasted like crap. Should've gotten the pumpkin bread I was eyeing.
After this I dragged Mr. Spice to Publix to do some groceries. Now, we have PLENTY of food at home and really didn't need to go, and of course we ended up buying way too much stuff. I swear I have an Old Mother Hubbard complex — meaning my pantry and fridge must always be full. I'm sure they'll do one of those hoarding interventions about me one day. I'll have all my groceries surrounding me or something.
Once all the groceries were put away I decided to start working on dinner. I had been cooking something away in the slow-cooker all afternoon, but you will have to wait to see it as a guest post later on. Yes, I'm doing a couple of these, they're so much fun!And yes, I'm being a tease and not showing a picture!
I wanted to make some Indian/Bengali food for dinner tonight since I know I won't get around to it during the week. I decided on making khichuri, which is like a lentil-rice pilaf, and a broccoli and sweet potato bhaji, which is like a dry-ish vegetable dish with spices (NOT a curry). I'll post the recipes for these separately. I also heated up some chicken that my mother-in-law had sent home with us when we visited in December — don't worry, it had been in the freezer.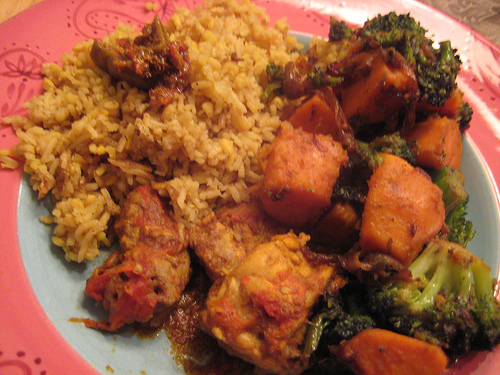 Not the best picture — I've been having issues with my lighting lately, probably because I've been taking pics at night or at work. I had khichuri with some vegetable pickles, the broccoli + sweet potato bhaji, and some chicken. So so good!
Oh!  Before I forget, I got in some exercise this morning. I did a Walk Away the Pounds 3-mile walk.  I don't know if it's really 3 miles, but it's 45-minutes of low-impact aerobics, so better than me sitting on the couch all day.
That's it for tonight. I still have Season 5 of LOST to re-watch and then PBS is showing part 2 of their Jane Austen miniseries.