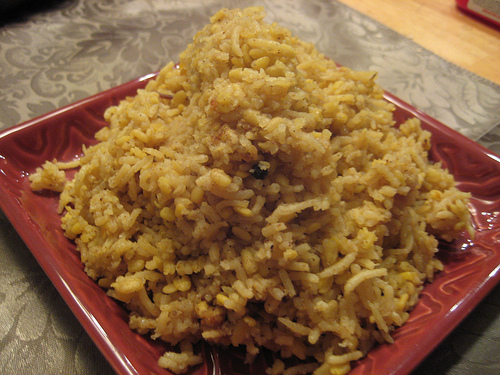 If you asked me for a quick English description for khichuri, I would call it a lentil-rice pilaf. This is one of my favorite Bengali comfort foods.  Well, it's unfair of me to claim it as Bengali, since it's a common dish in the sub-continent, but I do think we Bengalis have made it our own. You can read more about it here.
As with any other recipe, each cook makes it differently. I tend to make mine on the dry side, and use lots of spices for flavor. No matter how it's prepared, the perfect accompaniment is some hot and spicy aachar, or pickle.
Khichuri
1/2 cup lentils (moong or masoor, since they cook quickly)
1 cup basmati (do not DARE use instant)
1 tbsp. oil
1/4 onion, thinly sliced
2 cardamom pods
3 cloves
4 peppercorns
1 bay leaf
1 dried red chili
1 tsp. cumin powder
a teensy pinch of turmeric (skip if you don't have it)
salt to taste
Combine the lentils and rice in a large bowl and rinse under cold water until the water runs clear.  Drain and let rest.
Heat the oil in a sauce pan over medium-high heat.  Add the onion slices and cook until they start to brown.  Add the whole spices and stir until they just begin to darken.  Add the lentils and rice and stir to combine with the onions and whole spices.  Add the cumin powder, turmeric, and salt.  Add 1 3/4 cups water and increase heat so that everything comes to a boil.  Cover, lower heat to medium-low, and cook for about 20 minutes or until rice and lentils are done.  Taste again for salt.