Hello my lovelies! Hope everyone is well.Â

Thought I'd give you an update on how I'm doing with the South Beach Diet.
I'm finishing up Day 9 of Phase 1 — just 5 more days until I can start adding back fruits and grains!
Last week wasn't bad at all. I didn't really get any cravings and my only issues were planning ahead for lunches. However, the past couple days I've been getting cravings and those pesky thoughts in my head saying "9 days is long enough" or "screw it, this is too hard." But somehow I've been managing to forge on. My biggest struggle still remains planning ahead for lunches — having some fall-backs for those days when I'm caught without a lunch is coming in handy.
On to the eats!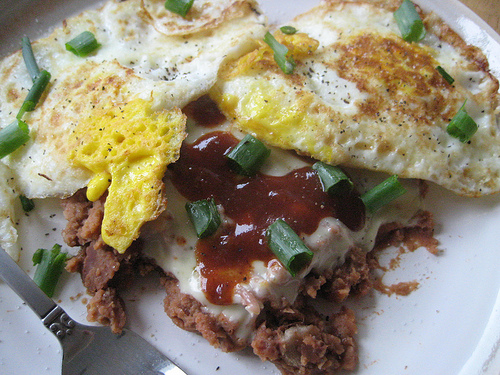 My SBD version of huevos rancheros. "Fried" eggs over fat-free green chili and lime refried beans, some pepperjack, and hot sauce. This is actually a pic from Saturday's breakfast, but it was the same as what I had this morning, except I didn't have scallions on top.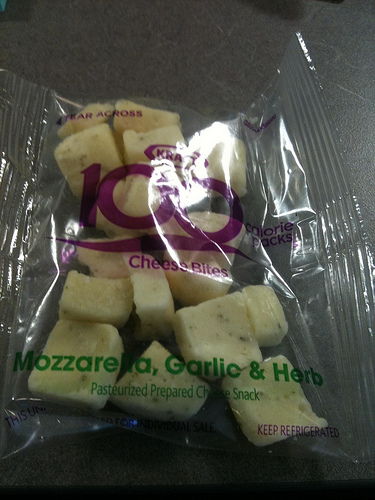 Mid-morning snack. Kraft used to make this roasted garlic mozzarella block cheese that I loved. Sadly, I haven't seen it in years. But then I saw these new 100-calorie packs and saw that there was a garlic and herb flavored one. This tastes pretty close to that other kind they used to make! And it's pre-portioned!
I had originally planned to go out and grab lunch but we had company higher-ups in the office today and they brought in lunch. It was from Fresh2Order so it should have been okay, EXCEPT that they didn't take individual orders and just brought in a bunch of stuff. And unfortunately for me, most of their stuff comes with stuff I don't like and I usually request taken off. So I opted not to eat what they brought and sat through the lunch with an angrily growling tummy. As soon as it was over I headed over to the Kroger across the street to get some rotisserie chicken from their hot bar. No pic.
Luckily I was more prepared for snack time.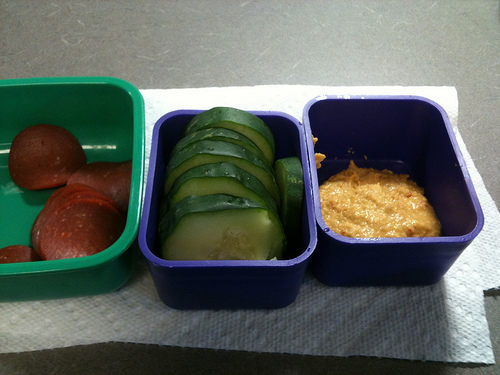 Turkey pepperoni and the hummus and cucumber I was supposed to have yesterday.
Dinner was quick and simple because LOST was on tonight. I marinated some salmon fillets in mojo marinade, baked them,and had mine over some spinach.
My pre-LOST dessert: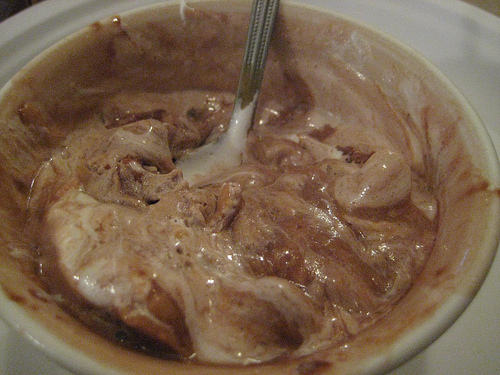 This is the famous SBD peanut butter cup dessert. It's a couple no-sugar-added fudgesicles slightly melted with some natural PB and lowfat Cool Whip mixed together. I've been looking forward to this every night for the past few days.
Okay, I need time to decompress from LOST and I need to get to bed. Good night!