Full disclaimer here:  I absolutely LOVE potatoes in pretty much any form, unless it involves cilantro, bleu cheese, goat cheese, or some other Spiceaholic-repellant.
If you haven't heard of Ree Drumond, aka "The Pioneer Woman," then please do yourself a favor and go visit her site.  Your tummy will thank you.
And while you're at it, look at her recipe for Crash Hot Potatoes.  After you see that, there is no way you can't not want to try making them.
I love roasted potatoes, but these take it up quite a few notches and are definitely entertainment-worthy.  In fact, they just graced our Thanksgiving dinner table last week.  However, like I usually do, I added my own twist to these.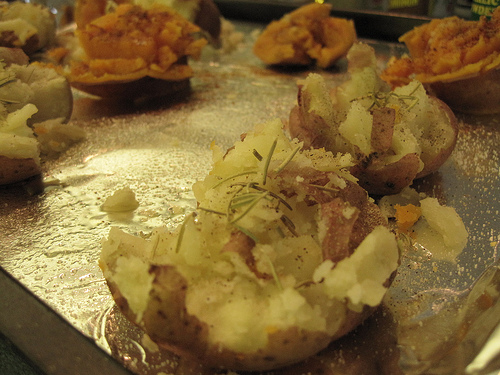 Pioneer Woman's Crash Hot Potatoes
Ingredients
5 red potatoes
1 huge sweet potato, cut into 5 pieces
olive oil
salt, pepper, garlic powder, dried rosemary, chili powder, cumin, cinnamon, whatever you want, to taste
Preheat oven to 450 degrees.  Bring a huge pot of water to boil, add potatoes and boil until fork-tender.
Take a large baking sheet, line with foil, and spray with cooking spray.
Place potatoes on baking sheet, leaving plenty of space between them.
Take a potato masher, and press down on each potato/sweet potato chunk so that they are smushed a bit.  They might look like potato roses at this point.  In fact, that is what I dubbed them.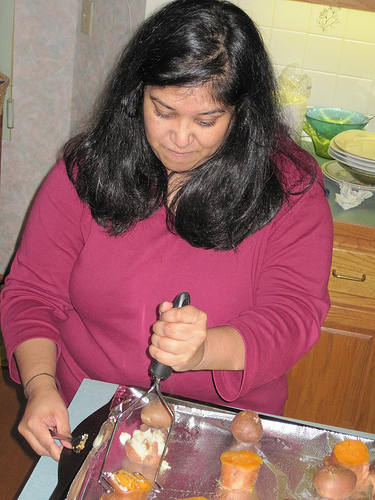 (You might have a little trouble getting the masher to do your smushy work, like I did.  Or maybe I was just having issues.  Probably not the best pic to use as my debut on here, but isn't that a great "you-WILL-submit-stupid-potato!!" look? )
Drizzle olive oil and seasonings over the potatoes.  On the red potatoes, I did salt, pepper, garlic powder, and dried rosemary.  The sweet potatoes got salt, pepper, cumin, chili powder, and cinnamon.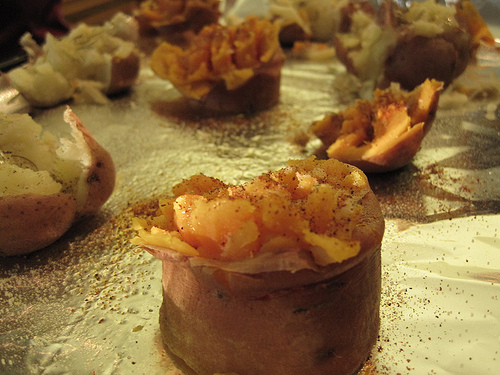 Bake for about 20 minutes, or until golden and crunchy.
Serve and swoon.
As you can see, this is a very versatile recipe and you can use whatever you want on them.
What are you waiting for?  Go try them!