I hope everyone had a great Thanksgiving!  It was so nice to spend it back home with my family. 
This year we decided to shake things up a bit at the dinner table.  We still had turkey, potatoes, stuffing, and pie –all four Thanksgiving Day food groups.  But it was the way that we made them that was different.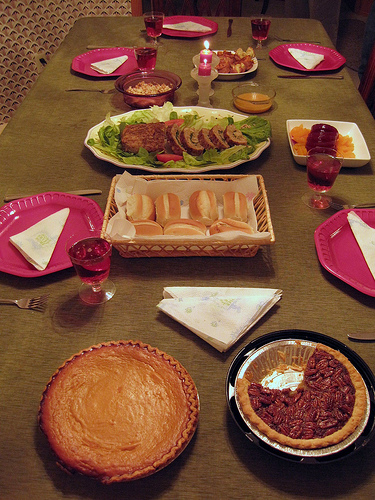 We all agreed that for the five of us (my parents, sister, Mr. Spice, and me), there was no need to do a whole turkey. Even a turkey breast would be too much. Last year I made a turkey breast when they came to visit and there was so much leftover. And to tell you the truth, I only like turkey the day it's made, when it's fresh from the oven, with all the crackly skin and wafting aromas. Apparently I wasn't the only one who shared this opinion. We had thrown some ideas around — roasting a chicken, roasting Cornish game hens, going out for Persian food instead. Finally my mom came up with the winning idea — a turkey meatloaf roulade.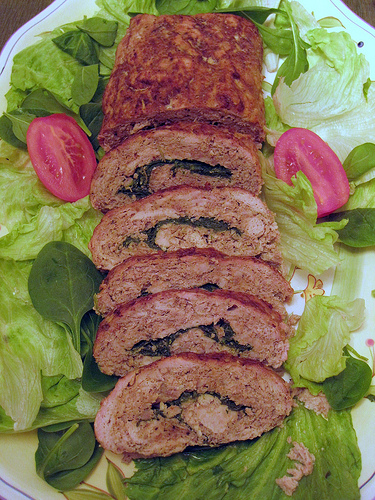 I don't remember what spices she put into it, but we spread fresh spinach leaves over the ground turkey before rolling it up and baking it. This was so so so good.
The stuffing wasn't that different — we usually do Stovetop Stuffing, this time they bought the Pepperidge Farm stuffing in a bag. I did whine for a few minutes but it tasted the same in the end. I know you purists are shuddering at the thought of prepackaged stuffing, but we like it, so there.
In lieu of mashed potatoes, I decided to try a variation of The Pioneer Woman's Crash Hot Potatoes, which certainly live up to their reputation. I did a mix of sweet potatoes and red potatoes. The sweet potatoes got a sprinkling of cumin, chili powder, and cinnamon. The red potatoes got garlic and rosemary.  Num num num.  Expect a full post devoted to these in the future.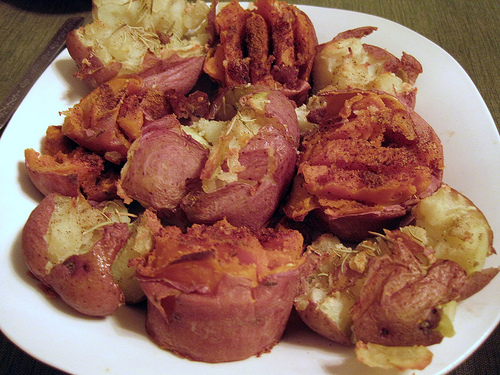 Here's my plate all loaded up: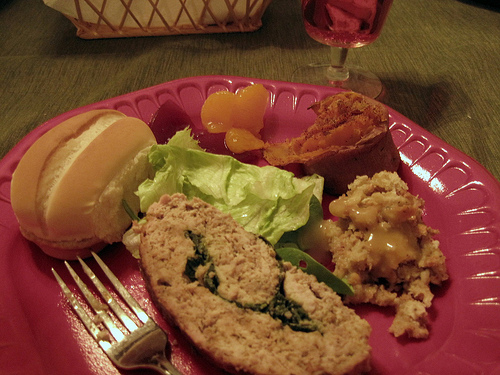 We didn't forget the cranberries and rolls. But we did forget to serve the corn! Mr. Spice loves the scary-looking jellied cranberries, so we sliced up the tube o' berries and served them with mandarin oranges. The rolls were just heat-and serve rolls. To go with the festive theme, I made cranberry spritzers for everyone — cranberry juice and Sprite.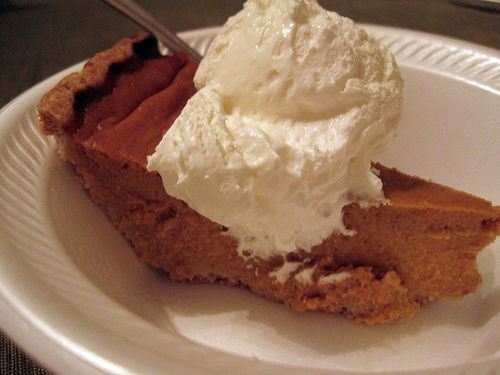 Last, but certainly not least — the pie!! For reasons unknown to us, my dad does not like pumpkin pie. Even when it is made by his youngest daughter. So we bought him a pecan pie to share with Mr. Spice while the rest of us devoured the oh-so-good pumpkin pie my sister made. She put ginger and honey in it and it tasted as good as it sounds.  
And yes, that's Cool Whip on the pie. No, it's not a travesty, just tradition.
That was just the beginning of all the food we ate this week, but unfortunately, that is all the food that got photographed.   I wish I'd been able to take pictures of the food we had the next day when we celebrated Eid and the day after that when I met my friends for gelato (dark chocolate and orange) and hot cocoa (Mexican hot chocolate!) at Cocoa Dolce.  Unfortunately, we only brought one memory card and that was getting used up in the little handheld camcorder Mr. Spice brought and used to take papparazzi-style videos of us all weekend long.  Oh well.
That just gives me an excuse to come back home and recreate those food memories.  😛