So this post is about a week late, but I assure you it's worth the wait.
My girlfriends and I really needed to do a girls' weekend, and we tossed around some ideas like Vegas.  But then we got word about the new Wizarding World of Harry Potter at Universal Studio's Islands of Adventure and being Harry Potter fans, our minds were made up.
We scored an amazing deal through the Universal website that got us a 2 bedroom, 2 bathroom condo at a resort, tickets for 2 days, early admission to the parks, and breakfast at the Three Broomsticks for one of the days there.
After much anticipation and longing for July to hurry up, before we knew it it was time to leave for our trip!
Our plan was to drive down after work on Wednesday and get in late.  Thursday we spent at Universal Studios, Friday was Islands of Adventure, which included the Harry Potter park, Saturday was our lazy day, and Sunday we drove back.
To describe how it felt when we walked up to the Wizarding World of Harry Potter is a bit hard.  I have to say it was a mixture of reverence and utter happiness.  Here was the world we've been reading about for years come to life and ours to explore!
Even though the Wizarding World of Harry Potter is just part of the bigger Islands of Adventure, I honestly felt like we could have spent the whole day there.  As far as rides, there are only 3 — the Dragon Challenge, where you pick from 2 roller coasters that are each crazy in their own way (I did this as soon as we got into the park), the Flight of the Hippogriff, which is a family-friendly roller coaster, and the Forbidden Journey which was by far the best ride and worth the 90+ minute wait.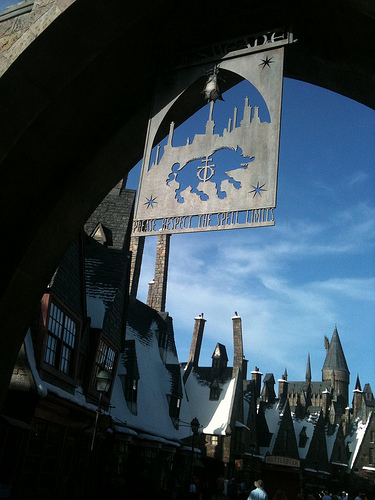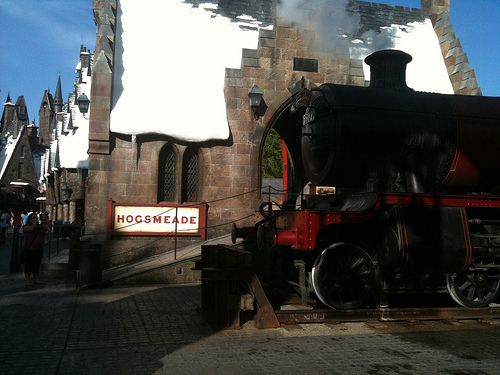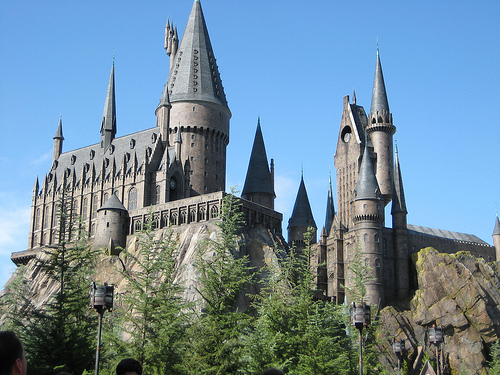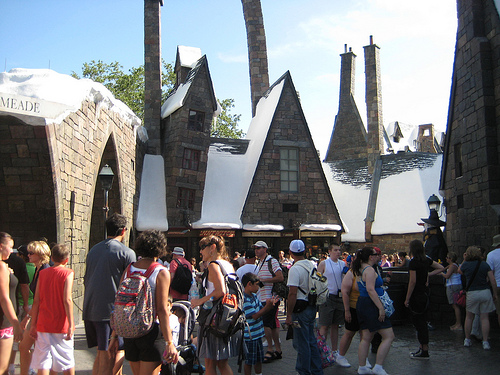 There are a few shops — Honeydukes (candy), Zonkos (jokes), the Owl Post, Filch's Emporium (wands), and Dervish and Banges (misc. Harry Potter shopping).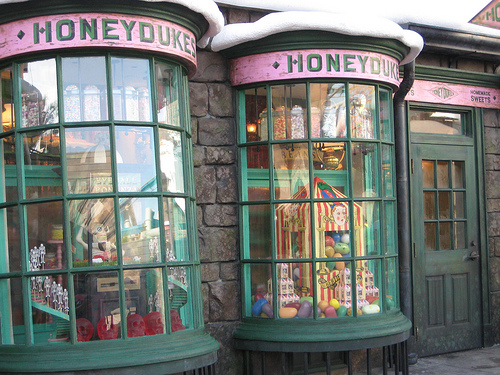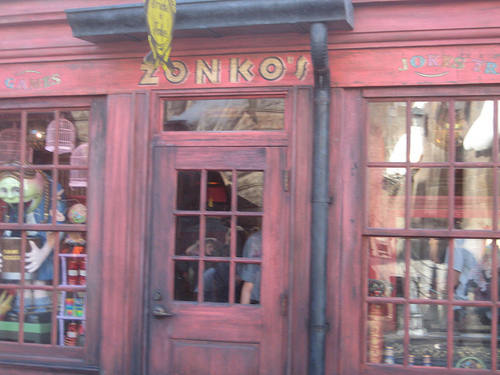 For eating and drinking, there are the Hog's Head Pub, which serves the famous Butterbeer (it's non-alcoholic), and the Three Broomsticks, which serves some typical English food like fish & chips and shepherd's pie.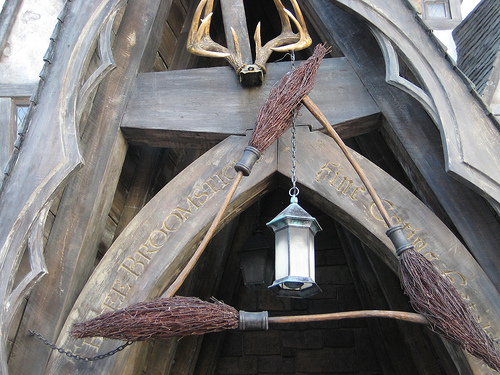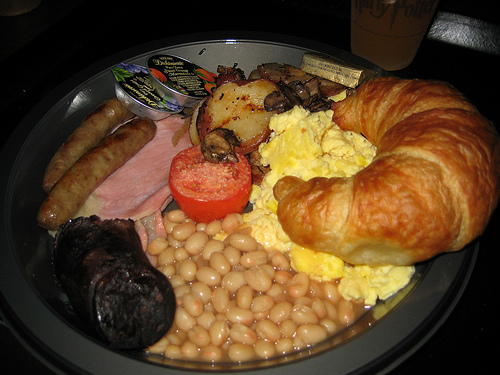 We got a free breakfast at the Three Broomsticks as part of our stay.  We all opted for the English Breakfast, which included eggs, bacon, sausage, black sausage (it's made of blood, so I did not eat this), baked beans, grilled mushrooms, tomatoes, potatoes, and a croissant.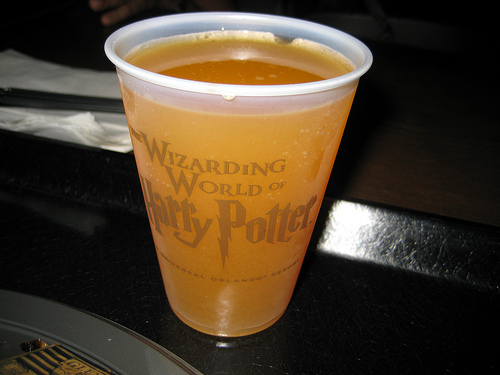 The famous pumpkin juice!  If you thought it sounds nasty, it isn't — think of a juice version of pumpkin pie!  They really need to mass market this.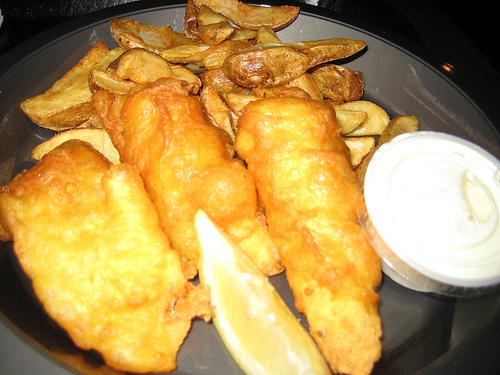 We came back a few hours later for lunch.  I debated over Cornish Pasties, Shepherd's Pie, and Fish and Chips.  Guess you can see what I got!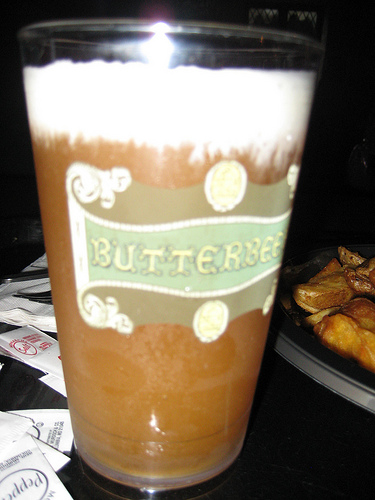 Butterbeer!!  It's non-alcoholic and comes in regular and frozen versions. I tried both.  The above is the frozen version in a souvenir glass.  It tastes like a combo of caramel butterscotch cream soda.  So so good!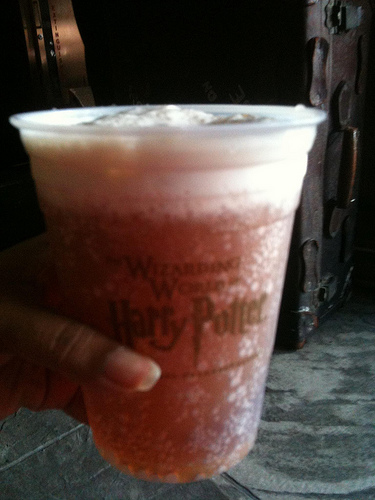 Here is the regular version of Butterbeer. I liked the regular version over the frozen version.
The lines were crazy long and the weather was hot and humid, but it was all so worth it!  I will gladly go back again, but I'll wait until the lines die down a bit and for better weather.  🙂
And now, if you've been patiently reading and waiting, time for the giveaway!
I'm giving one lucky reader a box of Bertie Bott's Every Flavor Beans!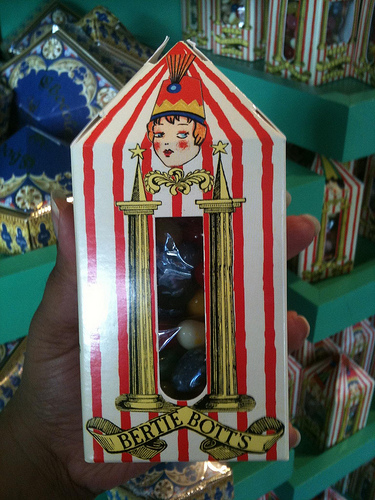 I know you can get these in regular stores, but this particular box comes straight from Honeydukes! So it's already more special. 😛
I haven't tried any of these yet, but I was there while one of my friends tried several flavors from her box and judging from her reactions, they have some interesting flavors!  I think we documented lamb, onion, grass,  and shrimp, just to name a few.
So how do you enter?
Take a look at this list of all the flavors and leave a comment telling me which flavor you'd like to try — and it can't be one of the normal-looking ones
Leave a comment suggesting a new flavor  – the more unusual the better!
Blog about this giveaway and link back, leaving me a comment that you've done so
Tweet about this giveaway and leave me a comment telling me you've done so
If you don't have a blog or a Twitter account, email me for an additional entry
You have until  12 pm EST on Friday, August 5th to enter.  U.S. residents only, please!  I'll select and announce a winner that weekend.
Good luck!