So today we were out and about in the Norcross/Duluth area and decided to hit up a few places like Super H-Mart. We stocked up on stuff like Korean/Japanese ramen, frozen gyoza, shrimp chips, and Pocky. I even found some new bento boxes (like I need more) and grabbed a few more to give away or sell.
It's such a nasty cold rainy day today that when we spotted some pho restaurants nearby we decided to go.  Hot noodle-y soup is made for days like this.
For those of you who haven't had pho, think beef or chicken in a broth with tons of rice noodles and green onions.  It also comes with sprouts, cilantro (blechh!), limes, jalapenos, and some other stuff you can use to customize your bowl.  I usually add a few sprouts, some lime juice, and a ton of hot chili sauce.
I get a kick out of the names of some of these pho places – What the Pho, Pho 96, Pho 79, etc. Now I can't tell if today's place was supposed to be punny or not. We ended up at Pho Mimi Noodle House because it was in the same shopping center as H-Mart and I didn't want to be stuck in the crazy rainy suburban traffic.
I usually get pho ga, which is pho made with chicken, but was in the mood for beef and decided to get one with eye of round and flank steak.
Excuse the crap quality of the picture, was playing around with my new iPhone.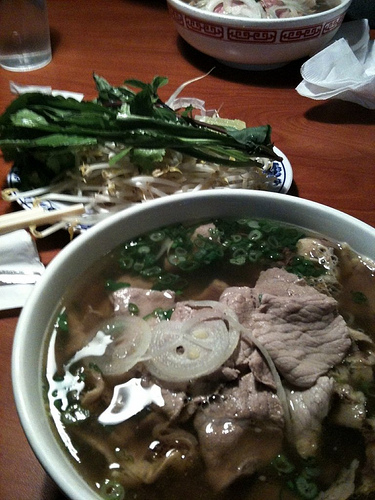 (Did you know there's a WordPress app for the iPhone? I was also playing around with this post in there but couldn't figure out pictures and all that so I'm finishing it up the old-fashioned way, on my laptop.)
Anyway, this hit the spot.  I didn't even make a dent in this bowl.  We had ordered medium-sized because the waitress said the small bowls were really small.  I don't know, but I think next time I'm ordering the small so I don't waste so much.
And now I'm off to do some self-study CPE (continuing professional education).  Yes, it really is as boring as it sounds.  In order to remain a licensed CPA I have to have a certain number of hours each year, and of course I procrastinated.
Don't forget about my Winter Ho-ho-holiday giveaway!  Monday is your last day to enter.