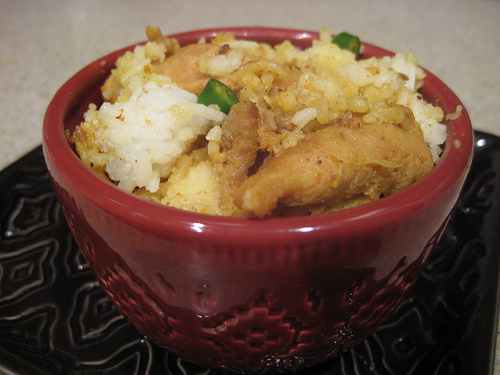 My dirty little cooking secret?
I rely waaayyy too much on prepackaged Indian spice mixes when I'm looking to make something quick.  The heart of the matter is that I'm lazy and if I can take a shortcut I will.  It's not that I don't make Indian food from scratch, I do.  But not when it needs to be quick.
I've talked about my guilt about using these mixes before, but sometimes you gotta do what you gotta do.  But I won't use just any mix/spice paste.  Oh no.  I've tried the ones you can get at World Market, Whole Foods, and Trader Joes, and they just don't do it for me.   Something just doesn't ring true about them.  No, if I'm going to cheat I'm going to do it right and use prepackaged spice mixes or pastes from the Indian stores.  🙂
There are several big brands at these stores — Shan, National, and MDH are the ones that come to mind first.  I tend to use the Shan ones.   As I've mentioned before, while they don't taste like the stuff I ate growing up, I do like the spice combinations they use.  If I'm at the Indian store, I will pick up a few packages here and there — mostly kabab and biryani mixes, since those dishes tend to have long complicated lists of spices in the first place.  I've picked up a generic chicken or beef curry mix here or there, but with those I will only use a little bit of their mix to supplement what I've done on my own, since chicken and beef curry are pretty simple and straight-forward.
Today I wanted to use up some chicken thighs we had and make something that would last us a few days.  I went shopping in our pantry and dug up a box of Shan Memoni Mutton Biryani mix.  I have no idea what Memoni biryani is.  And I don't do mutton (goat/sheep), but it's all meat in the end.
To be somewhat honest, I am still not quite sure what the difference is between a pullao and a biryani, especially the way I make them.  For me, if I'm making chicken pullao then I'm cooking the chicken and rice together with spices. But biryani is more complex in terms of spices and cooking.  You basically make a meat curry and partially cook some rice, and you layer the two and let them finish cooking together.  So I guess the subtle difference is the amount of spice and whether you're cooking it together from the beginning or at the end.    Anyway, I like them both.
Now when I use these spice mixes, I very rarely follow the recipe on the box verbatim.  I'll use it as a general guide or just use the spices as I please.  Today I used it as a general guide.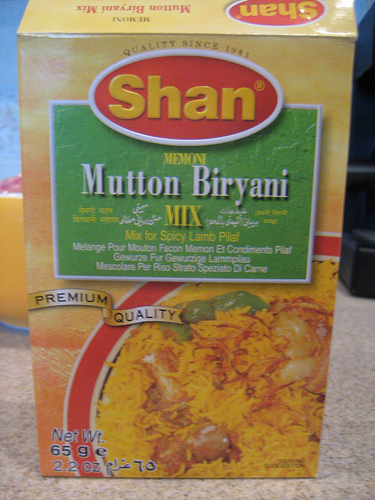 So, I browned some chopped onion in hot oil, then I added minced garlic and ginger paste.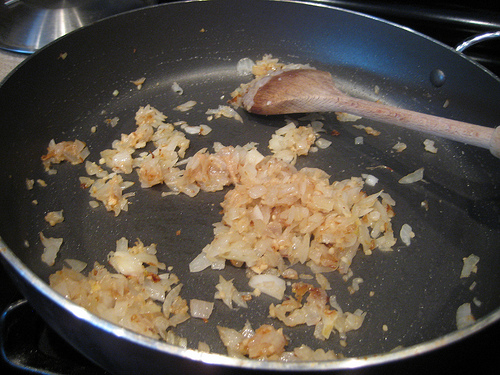 I dumped half the spice mix onto some cut-up boneless skinless thighs, along with half a container of yogurt and let that sit for a bit.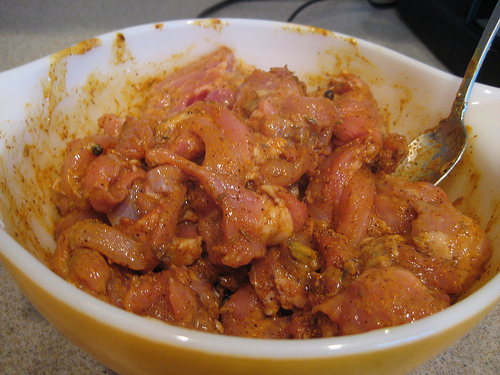 Then I added the other halves of the spice mix and yogurt to the onion-ginger-garlic in the pan.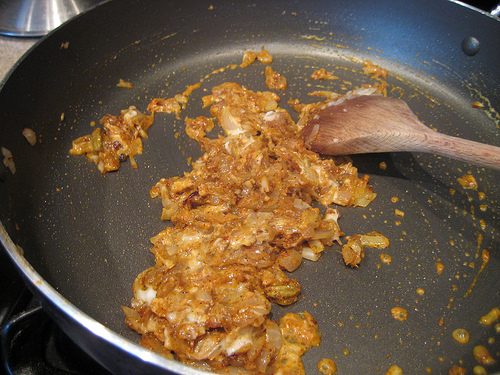 Then I added the chicken pieces, browned for a bit, added water, brought to a boil, lowered the heat, covered, and let it cook for about 20 minutes.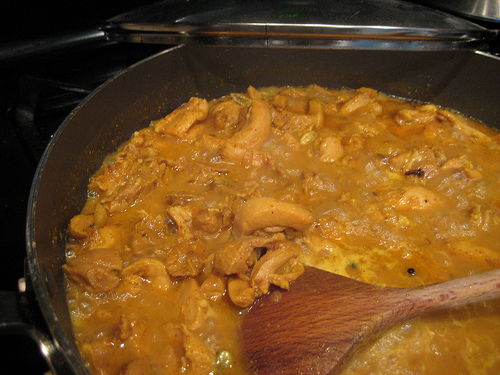 In the meantime I rinsed some basmati rice (do NOT use ordinary grocery-store variety long-grain rice for biryani or pullao.  It is a sacrilege.) and got that cooking.  And do not even think of using instant rice.  Just please don't go there.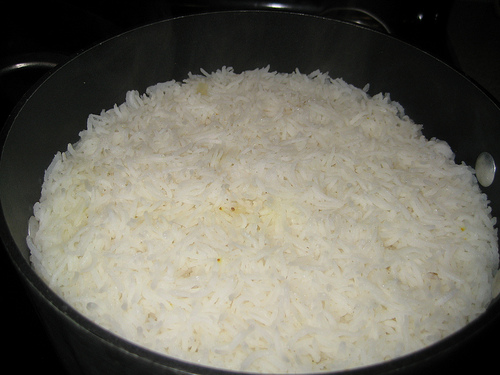 Oh and I preheated the oven to 425.
Once the chicken was done and the rice mostly done, it was time for the layering.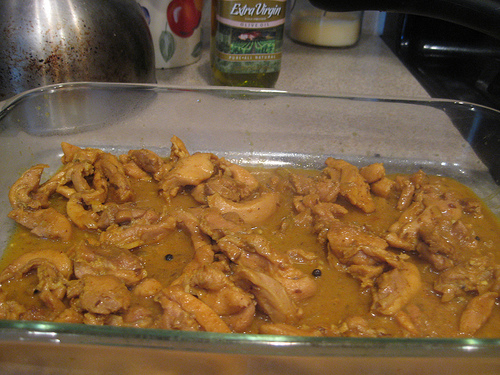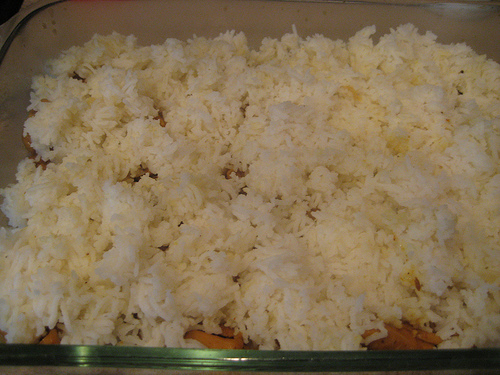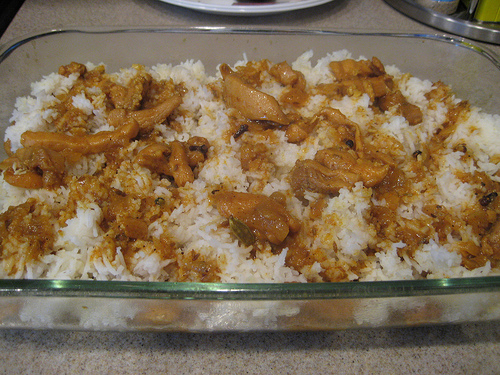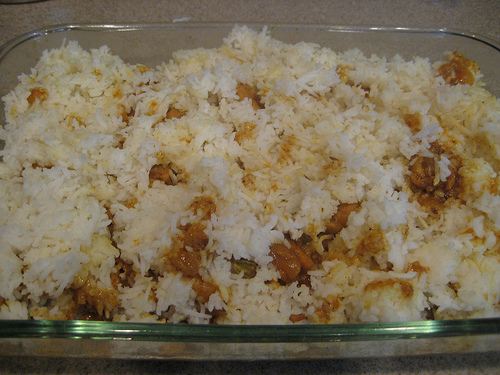 First, a layer of chicken and gravy.  Then rice.  Then more chicken and gravy.  Then a final layer of rice.  Then I covered it up with foil and popped it in the oven for about 20 minutes.
And then . . .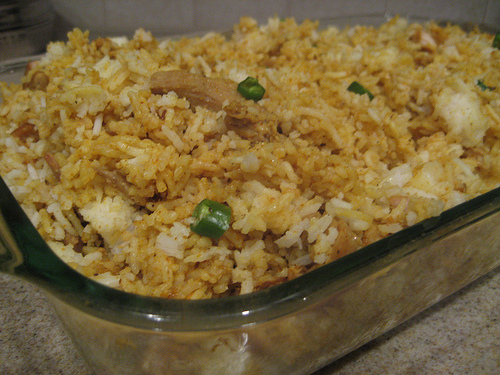 Yum.
And I don't have to worry about dinner for the next few nights!