What do you do when you experience bad customer service? Speak up? Don't say anything? You'll know why I'm asking this in a bit.
First things first . . . breakfast!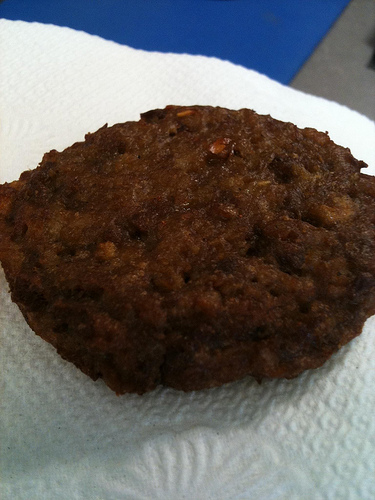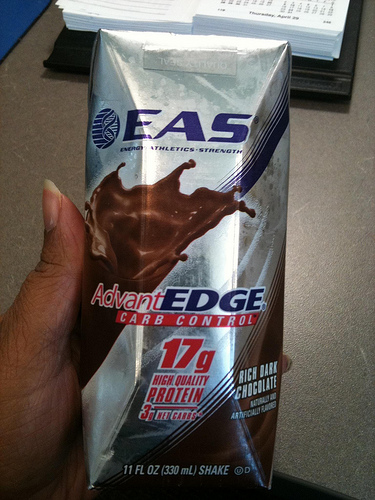 A Morningstar hot and spicy breakfast patty and an EAS AdvantEdge carb control drink.
Now comes the rant.
I had packed a lunch but didn't feel like eating it, so I thought I would get a salad from downstairs at Fresh2Order (F20). I ordered it over the phone and went to go pay for it and pick it up. I get to the register where they keep the take-out orders and waited as the lady in front of me got her order. The girl behind the register saw me, but then this guy butts in and starts placing an order. I thought it was just him, but then more people started ordering — all part of a group. I waited a bit then told her that I was here to pick up my order. She told me she was in the middle of their order. I told her I had been in line before them. She said she didn't see me and didn't seem to care. So I muttered something not very nice and left without paying for my food and without my food. Probably not the best way to handle it, but I wasn't in a good mood and decided their subpar food wasn't worth it anyway. But I won't be going back there. I even tweeted to the F20 tweet-peep about my experience but clearly it's not a priority. Jerks.
So I came back to the office and had what I'd originally packed.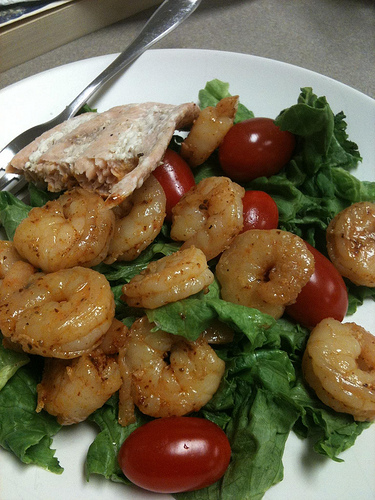 Leftover spicy shrimp and a piece of mojo salmon over lettuce and grape tomatoes.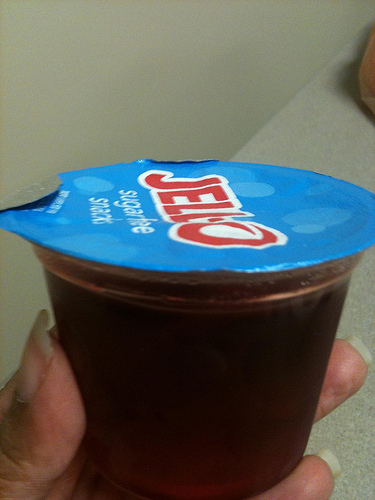 Sugar-free Jello.
Since lunch was on the light side, I ended up having 2 snacks.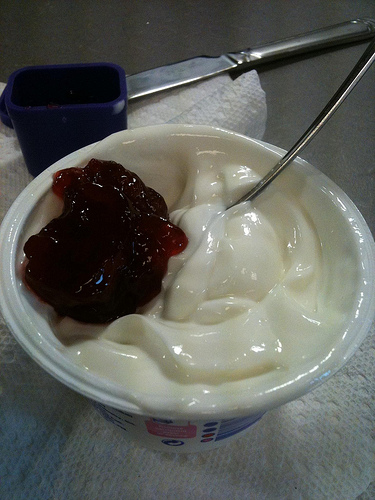 0% fat Fage Greek yogurt with some sugar-free cherry preserves.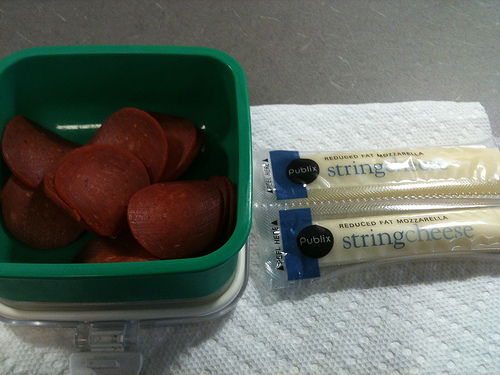 Turkey pepperoni and string cheese.
Dinner was one of those toss-in-a-pan things.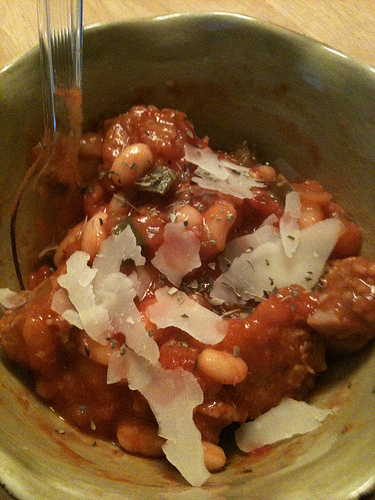 Hot Italian turkey sausage, green peppers and onions, pasta sauce, and white beans. I'm calling this one Italian Beanie Weenies.

I found some sugar-free dark chocolate when I stopped at Kroger on the way home. I plan to enjoy a teensy bit as I read before bed. I don't think it's quite kosher for SBD, but it could be worse!