Hope you're having a good weekend so far!  Mine has been busy but good.
Last night we went to my company's holiday party — LOTS of excellent food and company.  Everyone got a number when they came in and later we drew for gifts.  So you went up according to your number and then drew a slip that told you what gift you got.  I drew and won a Wii, but since we already own one I felt bad accepting it and got to draw for something else.  I ended up winning a bottle of Godiva white chocolate liqueur instead.  Now, I don't really drink, but I figured when we have our New Year's lunch I can serve it then.  Mr. Spice won a Ghirardelli gift basket which I have claimed for myself.  When I told him what I had originally won, he said I should have kept it and sold it!  Never even occurred to me, but I would have felt bad doing that.  Oh well!  🙂
Today I really wanted to go to a particular restaurant for lunch.  I know we're trying not to eat out so much and we had plenty of food at home, but once I got the idea stuck in my head, I couldn't get it out.   There is this little Caribbean roti place that is near the Pakistani grocery store I go to when I'm in a pinch for spices and stuff.   I finally was able to try it a few months ago and have been plotting my return since.  I convinced Mr. Spice to wake up so we could go by mentioning it was a buffet and that they had this really really spicy jerk chicken he'd like.  Bingo.
Tassa Roti Shop is one of those hole-in-a-wall gems that you almost miss driving by, and the food is AMAZING.  The owner is Trinidadian and the West Indian influences are very evident in the food.  I mean, it's called a roti shop for one thing.  You can order a la carte, but at lunch it's a buffet, which I think is the best way to try new cuisines.  I already knew what I wanted based on what I liked last time — the curry potatoes, curry chicken, spicy jerk chicken, and the roti.  I also tried some rice and some yucca just try something new.
Here is plate #1, which looked pretty much liked plate #2: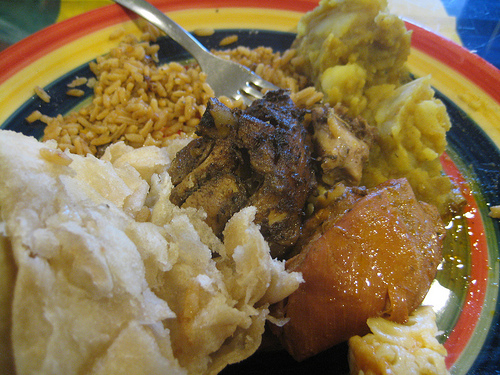 Starting from the top left:  beans and rice, curry potatoes, a tiny spoonful of mac& cheese, curry chicken, spicy jerk chicken, and roti.
I seriously could eat just a plate of the potatoes and roti.   So so freaking good.
After that huge lunch we ran some errands and have just been puttering around at home.  I'm trying to make a dent in all the paper junk we have lying around.  We are bad about not getting our mail for a few days and then letting it all pile up at home.  And I'm one of those people who have a hard time throwing things out just in case I might need them later.  So, not a good combo.
Anyway, trying to get some relaxation in tonight since I have to go into work for a few hours tomorrow.  We're trying to get year-end projections and some financial reports done for the the client family I work on before they all head out for vacation this week.  I hope things calm down a bit after that!