I'm sure it's not much of a surprise.
See?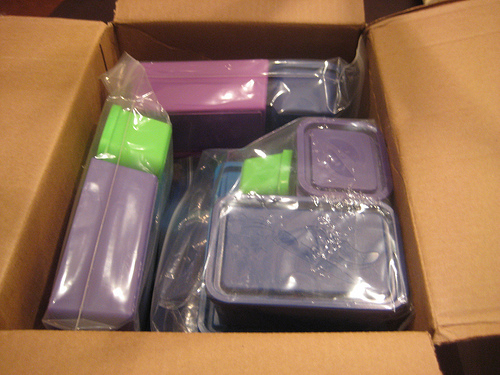 Yup. MORE bento stuff. I have like 3 big plastic bins of bento boxes but I still feel compelled to buy them. My new obsessions are the Laptop Lunches by Obentec.
Anyway, they came out with a newer version of their boxes a few months ago — now one of the larger inner containers comes with a lid, among other new goodies.  I just bought some sets of the older version a couple months ago because I liked the color selection better, but dang it, Obentec had to run a special where they are giving 20% off through the end of the year (use "winter2009" as your code at checkout). And now you can buy the outer and inner containers separately and not have to buy them as a set.  You know I can't resist a good deal.
So here we are . . .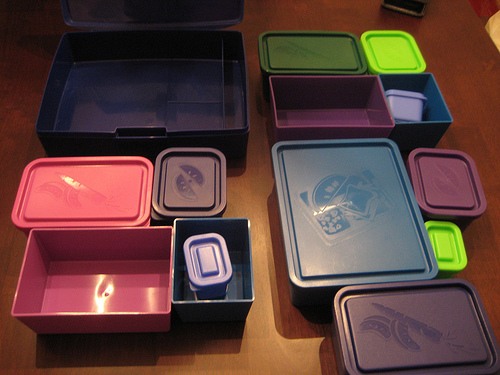 I got a blue outer container, the "berry" inner container set, a "berry" Bento Buddies set, and a "purple party" inner container set.
The inner containers in the newer version are a big bigger than the old ones, so they won't fit in the old box, but I can use the old ones in the new.  So there is some versatility.  Did that make any sense or do you have to own these to understand?  🙂
Like I've said before, one of the reasons I'm so attracted to the idea of bento boxes is the portion control they offer.  I have a HUGE problem with portion control (which in turn makes me HUGE), so I'm seriously considering just eating out of bento boxes for a while to rein things in.  Obviously only if I'm at home or taking stuff to work.  No way am I popping out a bento box at a restaurant and eating out of it there.  I'm not that much of an attention-hoor.
Now the next question is what to pack?