Does this sound like someone was cooking eggs in the microwave?  Why yes, yes I was.
Let me explain.
Yesterday I used up most of my pans to make some food to take to a friend who just had a baby, as well as to make some food for Mr. Spice and me.  And after all that cooking, I didn't want to wash out the pans, so they're soaking in water.
The problem is that I wanted eggs for breakfast this morning.  I like having "fried" eggs, meaning I use cooking spray instead of oil.  I still didn't want to wash out the pans and decided I'd leave them for Mr. Spice to do today.  I'm evil like that.
Luckily I had been browsing some message boards and saw a post where someone mentioned "micro fried" eggs.  Turns out they put an egg in the bottom of a plastic Gladware bowl, loosely cover it, and nuke for at least a minute or until the egg is done enough.  This appealed to the laziness in me so I gave it a try.
Instead of using a plastic Gladware bowl, I sprayed a large plate with cooking spray, lovingly deposited 2 eggs on top and then covered with our handy microwave cover. (I swear, that thing has saved me from cleaning up splatter messes in our microwave.  Best $2.00 I spent.)
I cooked mine for a minute, checked and saw the eggs still weren't done, and then cooked them for another 30-45 seconds.  Now the eggs and yolk were firm, just how I liked them.  The whites were just missing that brown crispiness I get from cooking in the pan, but whatever.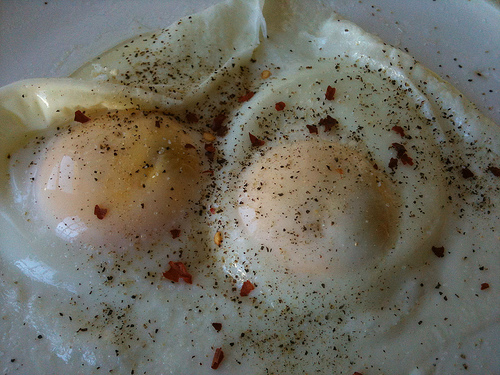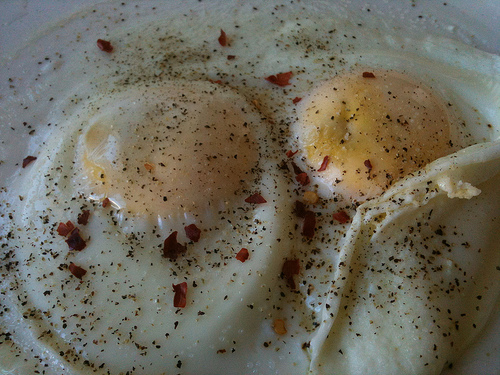 They don't look too bad, right? Almost like a cross between poached and fried eggs.
And then I decided to cut into the yolk to take my first bite.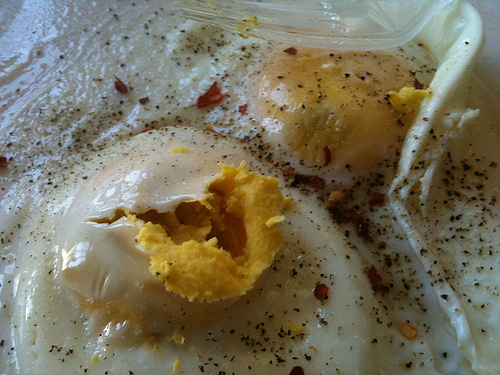 With a loud pop, I saw yellow fragments hurtling towards my face. I got yolk on my glasses, hair, and front of my shirt. It wasn't too much and I had to laugh at myself.  At least the yolk was cooked and not runny, that would have hurt.
So lesson learned — poke the damn yolks before I microwave them.  And wear glasses every time I make these, so I don't get yolk in my eye!