Planning ahead is simply a must if I'm going to succeed at something. Â I'm one of those people who can't just "wing it."
Today I came very close to not planning out today's food, which could have been a very bad thing.
My morning routine has become a bit disrupted now that we have Chloe. Â She's definitely frisky in the morning, so I have to play with her a little bit and then feed her and THEN get myself ready. Â 🙂
I lost track of the time and soon realized that not only was I going to be late for work but that I had no idea what I was going to eat today.
Luckily I came up with a plan pretty quickly!
Instead of eggs, I made a 1-minute flax muffin to eat on the way to work.  I just discovered ground flaxseed meal (I know, I must live under a nutritional rock) and love the nutty taste and the health benefits  – more on that in a future post.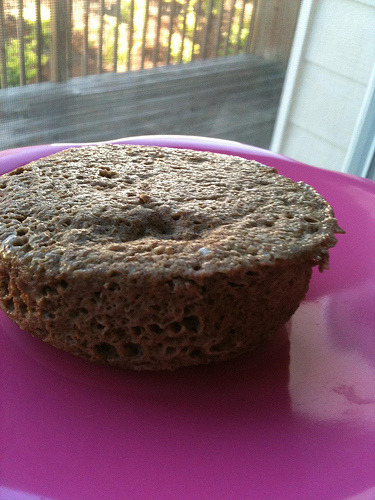 I added some unsweetened cocoa powder to the mixture and it turned out pretty good! Â I can see myself eating these and mixing in different things.
We have some projects to do at work the next couple weeks that are going to keep us busy, so I needed a lunch I could eat quickly at my desk.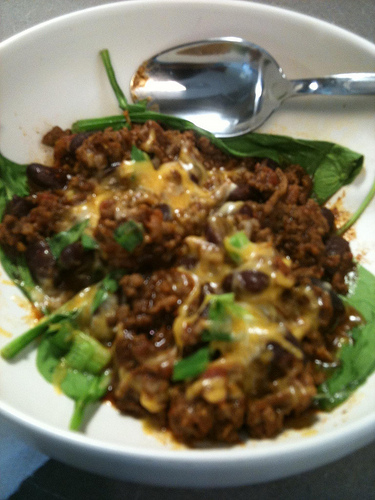 Apologies for picture quality — I was using my iPhone and I have shaky hands. Â 🙂 Â I had some leftover chili over baby spinach, some shredded habanero cheese, and some green onions.
I was still hungry after this, so I had some hummus, cucumber, and a tomato afterward. Â And a camera-shy sugar-free Jello cup.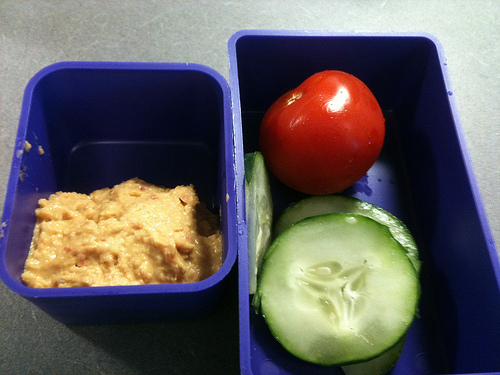 A few hours later it was snack time!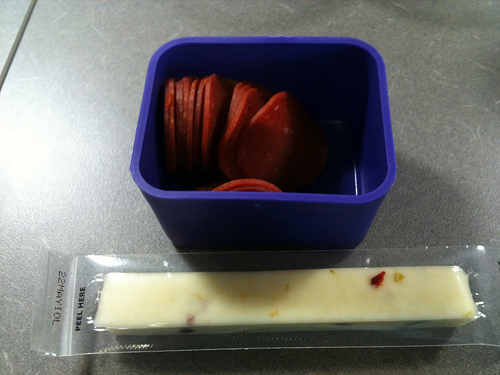 Pepperjack cheese stick and turkey pepperoni — I was in a salty snack mood.
A couple coworkers and I have decided to try to walk together once a week after work. Â We decided on Wednesdays. Â Last week was supposed to be our first time, but I might have forgotten my sneakers and it turned out one of them had to leave early. Â But today we were prepared! Â We walked for about 30 minutes and at a pretty brisk pace (but then, I'm also out of shape, so it doesn't take much!).
After I got home, I was greeted by a VERY happy Chloe! Â Man, she was purring like crazy and rolling around near my feet!
Dinner was pretty quick and simple — just a chicken stir-fry.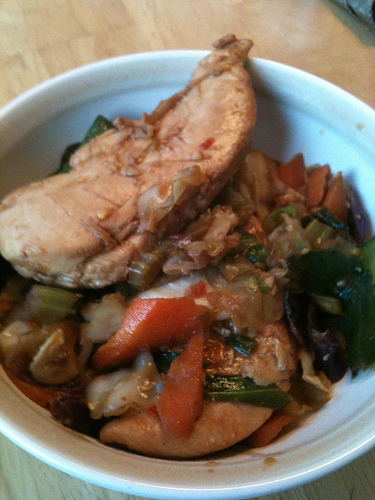 I marinated the chicken in a mixture of soy sauce, garlic, ginger, sliced green onions, sesame oil, lime juice, and chili garlic paste. One of these days I'll perfect this and write it up — it's a very good flavor combo. I realized after I started cooking that the veggie mix I used had carrots in it, which I can't have during phase 1, but no biggie, I just picked them out.
Even though it's getting late, I think I might have a ricotta creme for dessert and head up to bed for some reading.
Good night!