And I'm not that crazy about salads to begin with, so I need to keep them interesting!
Let's get on with the eats. LOST is a repeat tonight, but I'm still watching it!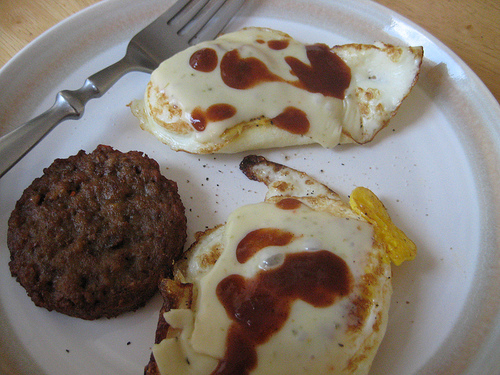 2 "fried" eggs, 1 slice Kraft 2% pepperjack, some hot sauce, and a Morningstar breakfast sausage patty.
This combo kept me pretty full and I didn't need a morning snack.
I'd brought my lunch but at the last minute went out with some coworkers to Jimmy John's. I'm sure you're wondering why I would go to a sandwich shop on Day 2 of Phase 1. Why?
Because I can get one of these: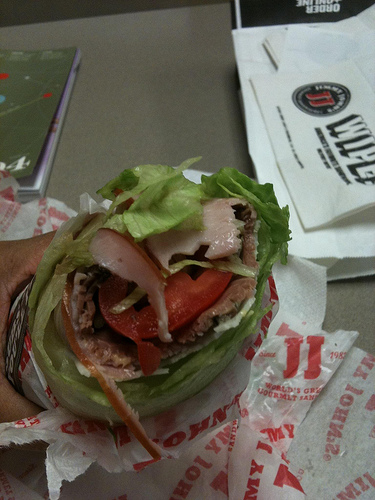 An Unwich! You can get any of their sandwiches as an unwich, which is basically the fillings wrapped up in lettuce leaves. I got a Billy Club, which is roast beef, ham, provolone cheese, lettuce, tomatoes, dijon mustard, and mayo (which I nixed).
Since this was just some protein and veggies, it didn't last me that long and I got pretty hungry mid-afternoon. So I ended up eating part of what I'd originally brought for lunch: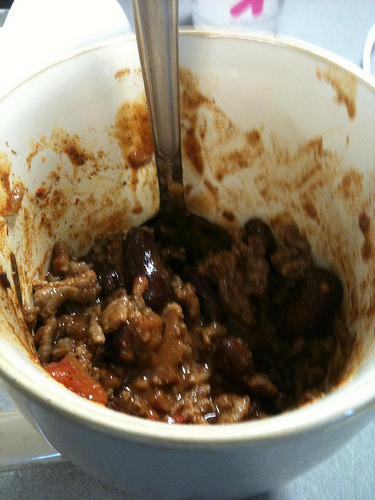 Chili. Excuse the nasty picture. Probably an unorthodox choice for a snack, but it had protein and good carbs from the beans, and it lasted me until dinner.
Dinner was quick, since it was partly comprised of leftovers.
Some leftover crockpot salsa chicken over green leaf lettuce, baby spinach, sliced Campari tomatoes, and topped with some shredded habanero cheese and green onions. It was good despite all the lettuce!

As of yet, I haven't had any dessert. But I am getting a little hungry now, so I might have a ricotta creme and call it a night.
Good night!