I think guest posts are a great way to freshen things up now and then.  I've been fortunate enough to have been able to do  guest posts here and there, and now it's my turn to have some guest posters on Spice's Bites!
My first guest blogger is Lisa Amato, who I "met" on one of the message boards I frequent.  Lisa is a self-taught (and might I add VERY talented) photographer and an avid cook who tells me this about herself: "I have two things that scratch my creative itch. Photography and cooking.  I love to experiment with both and have found that my best creations come from trying new things, new tools and new techniques."
Lisa emailed me with an amazing idea last week for a series of guest posts — she suggested submitting  a food related art photo and a recipe to complement it.  In case you aren't aware, Lisa has her very own Etsy shop where she showcases her amazing art photography.  What a great idea and what a wonderful way to share her creations, both photo and food related, with you.
For the first round of "Pretty Enough to Eat," Lisa is featuring the artichoke.  Read on!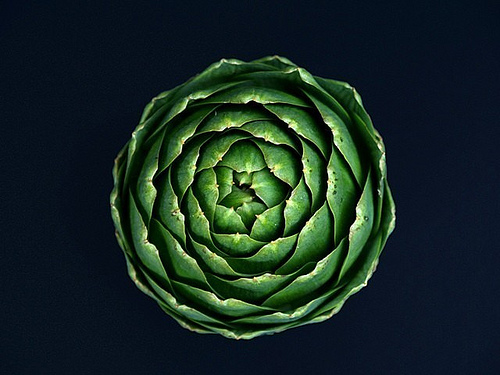 "This spiny thistle has its origins in the Mediterranean but is widely grown in California and is available year round.  The bud of the flower is edible but if let on the plant, it becomes a magnificent purple flower."
Stuffed Artichokes
Serves 4
Trim the stem and tops off 4 artichokes and rinse well in cold water making sure to get between the leaves.
Place in a steam pot with a couple of lemon wedges and steam with the lid on and for about 20 minutes.  Allow to cool.  Separate the leaves gently to make room for the stuffing.  With a small pairing knife, remove the center 'choke' and scoop out the fuzz using a small spoon.
Make your stuffing while the artichokes are steaming.  Mix together 1 cup of seasoned bread crumbs, 1/2 cup of shredded Parmesano Reggiano cheese, 1 Tbs minced roasted garlic, and enough chicken broth or white wine to soften the mixture until soft and crumbly.
Stuff the artichoke centers and between the leaves, drizzle with olive oil and set in a baking pan bottom down with enough water to cover the bottom of the pan 1″ deep.  Bake covered at 350 degrees for 45 minutes.  Uncover and bake another 5 to 10 minutes until the stuffing browns.
Lisa, that photo is breathtakingly beautiful, and your recipe is mouth-watering!  I can't wait to see what else you come up with!
Along with this great first post, Lisa is also offering something special for Spice's Bites readers:
Readers of Spice's Bites get free shipping and a free gift with any purchase in her Etsy store. Put "SpiceBites" in the notes at check out and you'll be refunded on shipping.
Thanks Lisa!
If you're interested in doing a guest post, feel free to contact me.