It is so much easier to fall out of a habit than to get into one.
A little over a month ago, I was in a good groove with getting up early to exercise, photo-journaling my food, and blogging. I'm hoping I can get back to that soon! 🙂
Before the eats, I have to share a few pics from Saturday, when a group of us went to the Dogwood Festival. Along with live entertainment and food galore, there were lots of arts and crafts stalls. This particular one featured different Humpty-Dumpty themed sculptures.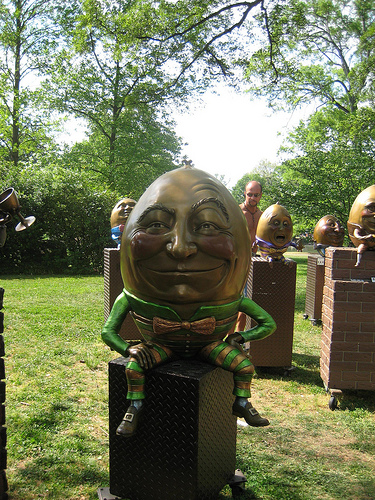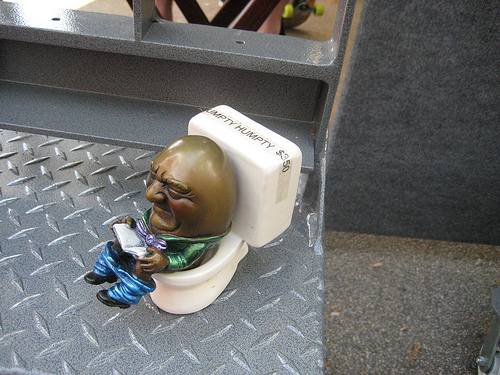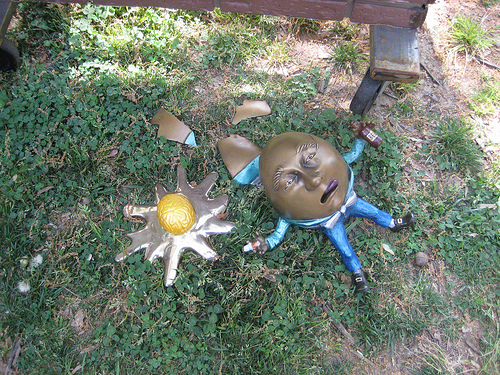 Aren't those awesome?  There was quite a selection and the artist definitely had a warped sense of humor, which appealed to me.  I kinda wish I'd taken more pics of the Dogwood Festival while we were there, but there's always next year!
Anyway, on to the eats!
In keeping with my egg theme, here is my latest egg-in-a-mug creation: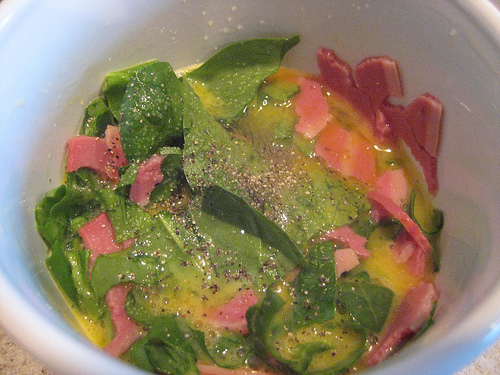 Shredded baby spinach, turkey bacon, and 2 eggs ready to go.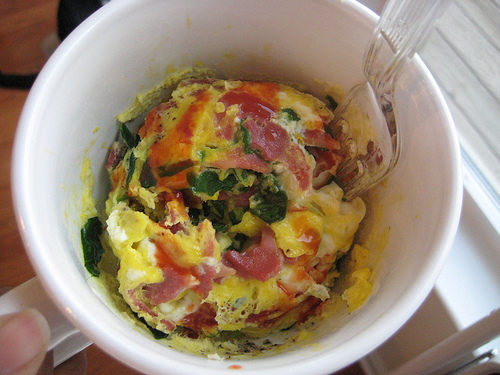 All ready to eat, with a curious kitty lurking in the back.
This was all washed down with some light chocolate soy milk:
Now that tax season is over, this is when everyone starts cracking down and getting back into the eating healthy and exercise routine. A couple coworkers and I have decided to form our own little support group so we can encourage each other to eat better and work out. We've even decided to go walking after work once a week.
After the last few weeks of eating out, having lunch brought in, and random frozen stuff, I was very excited about packing a lunch for myself.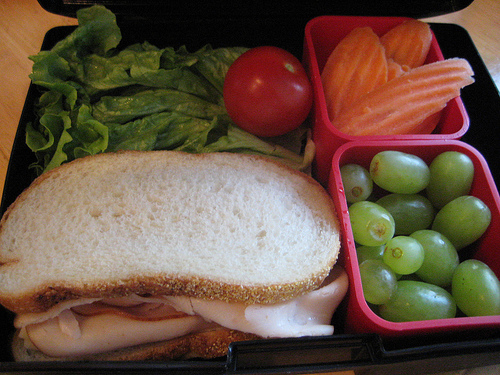 I packed a sandwich made with thinly-sliced Italian bread from the Publix bakery, rotisserie-seasoned chicken breast lunch meat, and dill-flavored Havarti cheese. There was some green leaf lettuce and a Campari tomato to go with the sandwich, along with some carrot slices and some grapes for later. This was all packed in one of my Laptop Lunch boxes.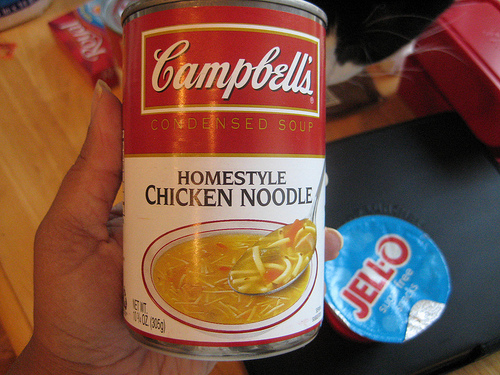 I also ended up grabbing a can of soup to have along with my sandwich. Having the soup before my sandwich helped me feel full, but I think next time I'll just have half the can instead of the whole thing.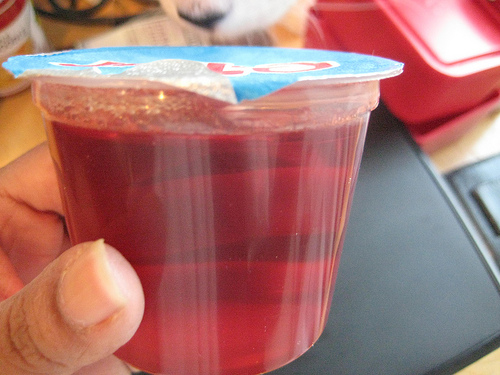 And finished off lunch with some sugar-free Jello.
My afternoon snack was spread out over a couple hours — I had the grapes from lunch and a pepperjack cheese stick, which went unpictured.
I actually started making dinner yesterday. I was experimenting with a yogurt marinade that I plan to tweak some more before posting. I took plain fat-free yogurt, added ginger, garlic, and some spices and marinated some bone-in, skin-on chicken thighs. When I got home from work, all I had to do was preheat the oven to 400 degrees and bake away for 45 minutes.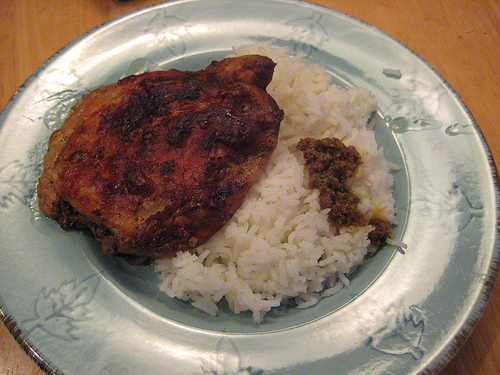 While the chicken baked I made some Basmati rice to go along with it. I figured with the veggies at breakfast and lunch it would be okay to be lazy and not make any for dinner. 😀
I can't end the post without a pic of Chloe!